Lizard Skins Self Adhesive Frame Protectors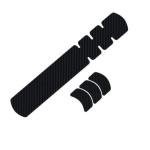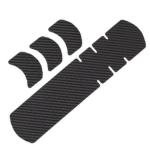 ( Click to Enlarge )
Look after your bike with some of these awesome self adhesive Frame Protectors from Lizard Skins. Ideal for placing anywhere on your frame that you'd like to protect from dings and scratches. Perfect for down tubes, seat stays, top tubes, chain stays, and anywhere else you can fit them.
Supplied as a single long piece with three separate extra pieces for extending the length.
Available in two sizes, small which is 32mm wide and 222mm long, or large which is 64mm wide and 305mm long.
Choose from either clear coloured to let your frame shine through, or carbon leather for added protection and a sleek racing look.
The self adhesive design is easy to fit to your bike, simply clean your frame, peel the backing from the frame protector, and stick in place. Be sure your frame is completely dry and has no wet or oily coating before applying otherwise you may run into problems. Lizard Skins recommend giving the area a quick wipe with isopropyl alcohol before applying.
FEATURES
Long-life self adhesive
Protect your frame from dings and scratches
Clear or Carbon Leather available
Includes one long protector and three extender patches
SIZES AVAILABLE:
Small - 32mm wide x 222mm long
Large - 64mm wide x 305mm long